How Florida Online Traffic School Works
Step 1 – Register for the BDI course.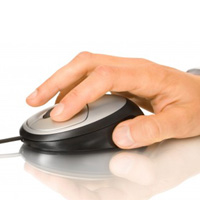 To register for your Florida online traffic school course, just click the green "GO" button.
On the next screen, click "Continue" to accept the course price, then select your reason for taking the course. (Explanations for each reason are given in case you are not sure.)
Complete the remaining registration pages and pay for the course. Payment is required before you begin, and you can pay by credit card, check, or money order.
Most customers choose the convenient online payment option using our secure payment form (encrypted with SSL technology).
Step 2 – Complete the course.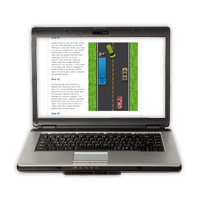 The best words to describe the Florida online traffic school experience are convenient and easy.
The course is available at all times and you can log in from any location with an Internet connection. Your course progress is stored on our server, so you will never have to worry about losing your work. You can take the course using your PC, laptop, or mobile device such as a smartphone or tablet.
The course includes several videos, animations, and colorful graphics to make your learning experience more enjoyable and more effective. There is no final exam; instead, after each unit you will take a short (seven question) unit quiz to proceed to the next unit.
Step 3 – Receive your certificate.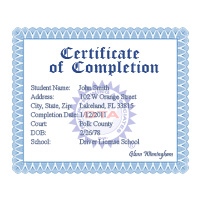 After you pass the last unit quiz, we will generate a certificate of completion for you to turn in to the Florida clerk of the court or other authority for which you are taking the course.
You can wait to receive your printed certificate by mail, or you can pay a small fee for electronic certificate delivery. Most customers choose this option because of its convenience, especially if they need their certificate "right away."
If you choose electronic certificate delivery, you will be able to print your certificate immediately after you confirm your delivery options, and we will e-mail a PDF copy of your certificate to the e-mail address you provided during registration.
As you can see, Florida's First Traffic School makes it easy for you to take your Basic Driver Improvement course on the web. Click the "GO" button to get started right away.
1-800-222-9199