Get Your Florida Driver License
Before you can get your first Florida driver license, you must take a DHSMV approved drug and alcohol course.* Click the "Register" button to sign up for this course today.
The course is written specifically for Florida teens and allows you to work at your own pace. Videos and interactive exercises are what make our course stand out from the crowd.
Don't get stuck with a dull course that has no video and will bore you to tears with page after page of statistics. Choose Florida's First Traffic School instead!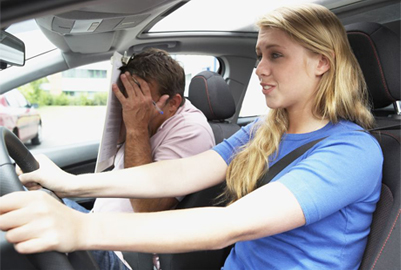 "I enjoyed the videos and cartoons in the drug and alcohol course."
– Rowena F., Titusville
All new Florida drivers (even adults) are required to take this course if they have never been licensed in a U.S. state. Some drivers who have been licensed in a foreign country might be exempt from this requirement.
The Drug and Alcohol Course with Video
At Florida's First Traffic School, we believe that many students are visual learners, meaning they learn more quickly and retain information longer by watching videos than simply by reading text on a screen. We also believe that learning is enhanced when the student can clearly understand the course topics, so we have written our course in simple language that does not bog the reader down with statistics.
Our commitment to providing the best possible drug and alcohol course curriculum at the lowest price is what distinguishes us from other companies that offer Florida first time driver courses.
Colorful graphics
Interactive exercises
Flash videos
99.9% final exam pass rate
Do course at your own pace
Log in and out unlimited times
Expert customer service based in Florida
Other Names for the Drug and Alcohol Course
Our brand name for the drug and alcohol course is Student Training Alcohol Related Topics, or START. Other common names for the course are listed below. All of these names refer to the same type of course – the 4-hour drug & alcohol course that Florida teens must take before they can apply for a Class E learner's permit.
DATE
DATA
TLSAE
Florida Learners Permit Course
Florida First Time Driver Course
The drug and alcohol course is not the same as a Florida traffic school course and therefore cannot be used to remove points from a Florida traffic ticket.
Find out More
To find out more about the Florida learner's permit course, read the START course FAQ, click the "Details" button on this page, or contact us.
1-800-222-9199