Florida Traffic Ticket Course
Take this 4-hour Basic Driver Improvement course to keep points off your license for a Florida speeding ticket or any type of Florida moving violation. You can also sign up for this course if you have been ordered by a judge or court to attend a 4-hour traffic school course, or if you have been ordered by the Florida DHSMV to attend a Traffic Collision Avoidance Course (TCAC).
Quick and easy – 99.9% pass rate
Guaranteed lowest price for Florida traffic school
DHSMV approved course accepted by all Florida counties
Video and animations, not just reading!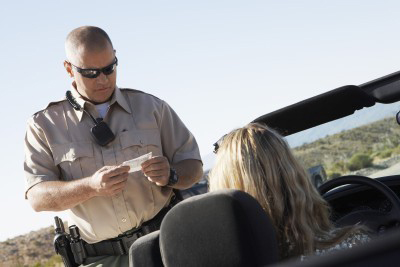 What can you do about a Florida traffic ticket?
Florida provides three options for drivers who receive a traffic citation (moving violation). You should consider these options very carefully before you make a decision as to what your Florida traffic ticket plan is going to be. Don't just do the first thing that comes to mind – you might regret it later!
Option #1:
You can simply pay your Florida traffic ticket and accept the points associated with your offense. These points will automatically go on your driving record, and can even be assessed on your record if you hold an out of state license.
Some of the more common ticket offenses are listed below.
Speeding 16 miles or more over the limit – 4 points.
Speeding 15 miles or less over the limit – 3 points.
Reckless driving – 4 points.
Passing a stopped school bus – 4 points.
Driving during restricted hours – 3 points.
Accumulation of too many Florida traffic ticket points can result in license suspension or revocation. Your Florida driver license will be suspended automatically if you receive too many points according to the following schedule:
12 points in 12 months = 1 month suspension
18 points in 18 months = 3 month suspension
24 points in 36 months = 1 year suspension
Not only do you risk license suspension if you choose Florida traffic ticket option #1, you also stand a greater chance of having your automobile insurance rate increase. In fact, your insurance costs could skyrocket from just one Florida ticket. It's pretty clear that option #1, while chosen by many Florida drivers, is not really a good way to address your Florida traffic ticket.
Option #2:
You can fight your Florida ticket in court. If you hire a Florida ticket attorney, you will have to pay attorney fees and you might still lose your case. In many cases, a ticket attorney will win a case, but the defendant will still be ordered to attend a basic driver improvement course anyway! That defendant could have saved time and money by simply choosing option #3 instead of option #2.
Option #3:
You can elect to attend a State approved 4 hour basic driver improvement course (also known as BDI school or Florida traffic school) such as the course offered by Florida's First Traffic School. Electing to attend Florida traffic school for your Florida ticket will entitle you to an insurance benefit. Your automobile insurer will be prohibited by law* from raising your rate, canceling your policy, or non-renewing it. You can take advantage of this fantastic Florida traffic ticket insurance benefit by signing up for Florida traffic school online right here on our website.
Note: The insurance benefit described above does not apply if your Florida traffic ticket was the result of a crash in which you were at fault.
To make sure you are elible for option #3, answer the questions below:
Have you already elected to attend a BDI course for a Florida traffic ticket that you received within the past 12 months?
Have you elected to attend a BDI course five times before?
Do you currently hold a Florida Commercial Motor Vehicle license?**
If your answer to any of these questions is "yes," you cannot choose option #3 for your Florida traffic ticket.
Other reasons for attending a basic driver improvement course for a Florida traffic ticket.
FloridasFirstTrafficSchool.com is the sensible solution for any Florida traffic ticket problem. Our course can also be taken for drivers ordered to take a DMV ordered traffic collision avoidance course, 4 hour court ordered traffic school course, fleet training (ordered by an employer), or on a voluntary basis for an insurance discount.
For more information about Florida traffic ticket court ordered BDI attendance, visit our 4 hour court ordered traffic school page or our 4 hour judge ordered traffic school page.
For more information about Florida traffic ticket TCAC attendance, visit our TCAC page or our Traffic Collision Avoidance Course page.
*§626.9541, Florida Statutes
**§318.14(9), Florida Statutes
1-800-222-9199