Preparing for Your Driver License Exam
Many Florida teens do not pass their driver license test the first time around.
Some get nervous and forget the things they studied, while others never study at all and just assume that they will be able to pass on their own knowledge. They usually learn the hard way that the test is not as easy as they thought it would be.
The best way to gain the knowledge needed to pass the test is by studying the Florida Driver's Handbook, taking time to read it carefully and not just "cram it in" all in one day.
But equally important is practicing to take this type of test. Florida's First Traffic School offers an online practice test that contains the same type of questions you will find on your REAL driver license test. What better way to prepare yourself so that you don't have to take the real test over and over again in order to pass?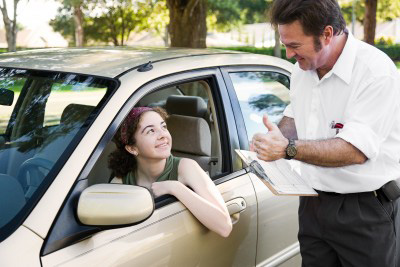 "The practice test really helped me to not be nervous when I took my test at the driver license office. I would recommend this to anyone who is going to get a license."
– Tania O., Homestead
Several Tests to Choose From
50 question test – Pick this basic 50-question test to practice with the types of questions that will be on your Florida road signs and road rules exam.
100 question test – The more advanced 100-question test repeats test questions less often. This gives you more exposure to different questions.
Unlimited testing – Both the 100-question and the 50-question versions give you unlimited tries. Study as much as you like!
Standard, Motorcycle, or CDL – Choose the type of test for the vehicle you will be operating. The standard test is for non-commercial vehicles (cars, light trucks, etc.). The CDL test is for commercial vehicles, meaning large trucks and buses. Choose the motorcycle test if you will be operating a motorcycle or mopeds.
About the Florida Driver License Practice Test
I Drive Safely®, is the developer of the online Florida driver license practice test. The test is offered on this website through a partnership with I Drive Safely®.

While the practice test is a great way to study for your road rules and road signs test, it does not contain the actual questions that will appear on your real test. The questions are similar and will still help you to gain the knowledge you need to pass your real test.
Behind the Wheel Experience
Studying the Florida Drivers Handbook is a key part of preparing for your experience as a new driver. However, don't just try to "learn enough to pass the test"; study the handbook carefully so that you will be ready to face the challenges of a fast-paced and complex driving environment.
It's just as important to have some experience behind the wheel as it is to study the information in the handbook. Florida law requires that you spend several hours driving with a licensed passenger in the front seat before you can be given a license. This is an important time during which you will gain a feel for the road and begin to experience some of the unexpected situations that every driver must face on a daily basis.
Remember, driving is about more than just reading a book or taking a practice test. Be patient and courteous on the road, drive safely, and stay in your Adult Attitude State® behind the wheel.
1-800-222-9199