Hardship License
If your Florida driver license has been suspended or revoked, you are required to enroll in a 12-hour Advanced Driver Improvement course (ADI school) before your license can be reinstated or before you can apply for a hardship license. Completion of ADI school is also required for drivers who have been classified as Habitual Traffic Offenders (HTOs).
This course can also be taken by a driver who has been ordered to attend ADI school by a Florida traffic court or judge.
100% online, no driving to a classroom
No 12-hour lecture or group discussion
Get your enrollment letter immediately!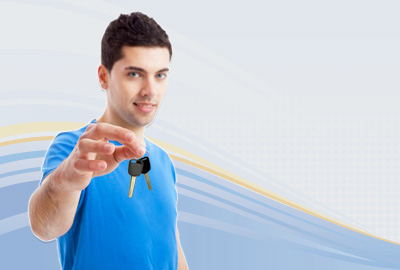 A Florida hardship license requires ADI school
Any Florida driver whose license has been suspended or revoked must present proof of enrollment in a DHSMV approved 12 hour adi class to the driver license office before he or she will be permitted to apply for a Florida hardship license. This can be done the hard way or the easy way.
The Hard Way
Sign up for ADI school with a classroom company. This will mean that you will have to try to match your schedule with the classes offered by the ADI school.
Once you have registered, drive to that company's office to pick up your enrollment letter, or wait for it to arrive in the mail. When you receive it, turn it in to the Florida driver license office and apply for your hardship license.
Now you will have to sit in an ADI course for 12 hours with strangers, either one exhausting session or two or more single sessions (don't forget about the gas you will waste doing all that driving to and from the ADI school). Also, if your license has been suspended or revoked, you will not be able to drive legally to ADI class. You will have to decide to either drive illegally and face the consequences, get someone else to drive you there, take public transportation, walk, or ride a bicycle.
The Easy Way
You can register, pay for, and complete your Advanced Driver Improvement course entirely online with FloridasFirstTrafficSchool.com. Getting your hardship license this way will save you time, money, gas, and a headache!
The first step in the easy way to getting your hardship license is to complete the quick and simple ADI school registration form (just click on the sign up button at the top of this page). When you pay for your course, you will have the option of paying a small extra fee to print your enrollment letter online right away. That's right, no waiting in line — you could go down to apply for your hardship license the same day!
After you register, you can complete the advanced driver improvement program 100% on the Internet — no driving anywhere or trying to match a schedule since you complete the course at your own pace, logging in and out whenever you like. The Florida's First Traffic School ADI course is clearly the easiest option for a Florida driver who needs to get a hardship license.
1-800-222-9199