Advanced Driver Improvement
State of Florida Approved ADI Course
The advanced driver improvement course is fully approved by the Florida Department of Highway Safety and Motor Vehicles (DHSMV). In other states, this governmental authority is sometimes referred to as the "DMV" or Department of Public Safety.
The 12-hour ADI course is required for drivers before they can receive a Florida hardship license or have a suspended or revoked license reinstated. Read further for specific information on attending this course to receive a hardship license.
FloridasFirstTrafficSchool.com is owned and operated by Driver Training Associates, Inc. We developed the first ADI course for use by Florida drivers and have taught ADI longer than any other company.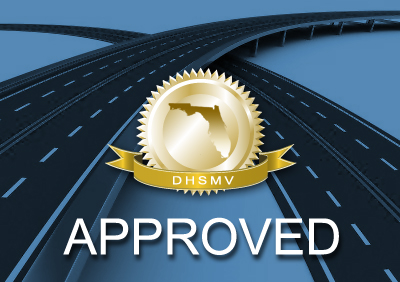 "I needed my hardship license fast and your course was the best way to get it. I'm really glad I found your site."
– Nancy N., Winter Garden
The ADI course offered through our site is an approved Advanced Driver Improvement program established in accordance with the standards set forth in Florida Administrative Code 15A-8.006(5).
Florida Hardship License
Many customers sign up for our online ADI course because they need to get a Florida hardship license. This is a license that enables a person to continue driving to and from work (and sometimes other locations) when his or her operator's license has been suspended or revoked.
A person cannot get a hardship license unless he or she shows proof of enrollment in an ADI course. It does not matter whether the ADI course is online or in a classroom. In either case, the driver will receive a proof of enrollment letter when he or she enrolls in the ADI course.
If you sign up for your advanced driver improvement course through FloridasFirstTrafficSchool.com, you will have the opportunity to pay a small fee and print out your enrollment letter immediately after you finish registering for the course. If you need your hardship license "right away," this is the best way to get it.
Business Purposes Only
Florida hardship licenses fall into two categories: business purposes only and employment purposes only. Business purposes only is defined in §322.271(1)(c)1, F.S., which states: "'A driving privilege restricted to business purposes only' means a driving privilege that is limited to any driving necessary to maintain livelihood, including driving to and from work, necessary on-the-job driving, driving for educational purposes, and driving for church and for medical purposes."
Employment Purposes Only
Employment purposes only is defined in §322.271(1)(c)2, F.S., which states: "'A driving privilege restricted to employment purposes only' means a driving privilege that is limited to driving to and from work and any necessary on-the-job driving required by an employer or occupation."
Requesting an Administrative Hearing
Before obtaining a business or employment purposes only "hardship" license, a driver must request an administrative hearing from the Department of Highway Safety and Motor Vehicles. This process is outlined in §322.271(1)(a), F.S., which states: "Upon the suspension, cancellation, or revocation of the driverís license of any person as authorized or required in this chapter, except a person whose license is revoked as a habitual traffic offender under s. 322.27(5) or a person who is ineligible to be granted the privilege of driving on a limited or restricted basis under subsection (2), the department shall immediately notify the licensee and, upon his or her request, shall afford him or her an opportunity for a hearing pursuant to chapter 120, as early as practicable within not more than 30 days after receipt of such request, in the county wherein the licensee resides, unless the department and the licensee agree that such hearing may be held in some other county."
During the administrative hearing, the driver whose license is suspended or revoked must demonstrate the need for the hardship license as outlined in §322.271(1)(b), F.S., which states: "At such hearing, the person whose license has been suspended, canceled, or revoked may show that such suspension, cancellation, or revocation causes a serious hardship and precludes the person from carrying out his or her normal business occupation, trade, or employment and that the use of the personís license in the normal course of his or her business is necessary to the proper support of the person or his or her family."
There are many reasons a person's Florida driver license might be suspended or revoked. Situations can become very complicated and reinstatement procedures vary from one situation to another. You should refer to the Florida Statutes for definitive answers to questions regarding license reinstatement or consult an attorney.
More Information about ADI
Most common questions about ADI course attendance are answered in our ADI FAQ.
Our professional Florida-based customer service team can also answer any questions you might have concerning advanced driver improvement.
1-800-222-9199