Florida Drug and Alcohol Course
State of Florida Approved
Take your course with a State of Florida Approved course provider – Florida's First Traffic School. Our Florida drug and alcohol course is fully approved by the Florida Department of Highway Safety and Motor Vehicles (DHSMV).
Our drug and alcohol course has been taken by millions of Florida teens since the 1990's, when Florida first began requiring that all first time drivers complete a State approved drug and alcohol course before obtaining a license.
Parents of Florida teens can feel confident that their child is taking a course from a trusted company that maintains a fully staffed office in Florida, not a far away "defensive driving" school whose customer service representatives know little or nothing about Florida programs.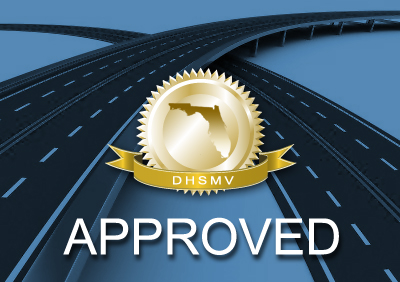 "Your customer service representative really helped me with my questions about whether my daughter needed to take this course."
– Marcus A., Venice
Course Attendance Required by Florida Law
Our Florida drug and alcohol course is a DHSMV approved Traffic Law Substance Abuse Education (TLSAE) course. TLSAE course attendance is mandated by §322.095(1), Florida Statutes, which is printed below.
The Department of Highway Safety and Motor Vehicles must approve traffic law and substance abuse education courses that must be completed by applicants for a Florida driver's license. The curricula for the courses must provide instruction on the physiological and psychological consequences of the abuse of alcohol and other drugs, the societal and economic costs of alcohol and drug abuse, the effects of alcohol and drug abuse on the driver of a motor vehicle, and the laws of this state relating to the operation of a motor vehicle. All instructors teaching the courses shall be certified by the department.
§322.095(5), F.S., states the following regarding individuals who are exempted from this requirement.
The provisions of this section do not apply to any person who has been licensed in any other jurisdiction or who has satisfactorily completed a Department of Education driver's education course offered pursuant to s. 1003.48.
At the Driver License Office
Florida teens must successfully pass this course before they can apply for their learner's permit (or Class E learner's license). At the driver license office, the examiner will check the State's database to see if a proof of completion exists for the applicant. If no record of completion exists, the applicant will have to return once the drug and alcohol course has been completed.
Most questions about the online drug and alcohol course are answered on our comprehensive frequently asked questions page. You can also call us at 1-800-222-9199 if you have questions about the course.
1-800-222-9199