8-Hour Traffic School Details
When selecting an 8-hour traffic school course, you can choose an online course or a classroom course.
Either type of course will satisfy an admninistrative order from a Florida judge or court, so we recommend taking the online course if you have a computer with an Internet connection. By taking the course online, you will not have to sit in a classroom all day (usually on a Saturday), or sit through multiple sessions.
Also, you can break up the course material at your leisure, studying a few pages or units at a time. Most of our customers tell us that they prefer to complete the eight course hours in small portions rather than finishing the entire course all in one sitting.
Get started on your 8-hour traffic school course today. Just click the register button to begin.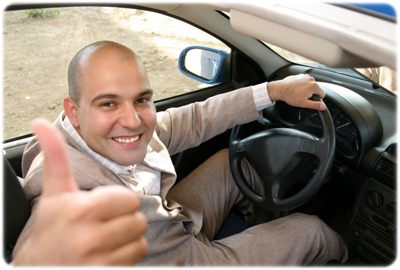 "I work weekends, so taking this course online was the best option."
– Tyrone M., Coral Gables
Reasons for Taking an 8-hour Course
While many states require attendance of an 8-hour defensive driving course for various reasons, Florida is unique. In certain counties in Florida, a driver may be given the option or may be ordered to attend an 8-hour class, depending on the circumstances.
Sometimes referred to as Intermediate Driver Improvement, this course is offered to drivers who have already completed a Basic Driver Improvement (4-hour) course for a moving violation within the past 12 months and therefore are no longer eligible to take a BDI course for a second traffic ticket.
Some of the other common names for this course include the following:
8-hour DDC (Defensive Driving Course)
8-hour DDS (Defensive Driving School)
8-hour ADV (Advanced Course)
8-hour Basic DDS Course
The 8-hour course offered on Florida's First Traffic School will meet court obligations for attendance of an 8-hour IDI program, as well as aggressive driving or 8-hour license suspension.
Reporting Your Completion
Since IDI course attendance is directed by the court, you will be required to report your course completion to the court after you finish the course. After you pass the last unit quiz, a certificate of completion will be issued to you. This certificate will contain your name, address, date of birth, course completion date, and a place for your signature. Florida courts require that you return the original, signed certificate to them in order to receive credit for the course, so we recommend that you make a copy of your certificate for your records before you submit it to the court.
Please read our Frequently Asked Questions page or contact us if you have questions concerning the Florida 8-hour traffic school course that are not answered on this details page.
What the 8-Hour IDI Course Teaches
The online 8-hour traffic school course combines Flash videos, animations, and text into a professional presentation of defensive driving strategies that can help you avoid future traffic tickets and crashes. The course curriculum covers a wide range of topics, including the dangers of aggressive driving and the various ways a driver's license can become suspended or revoked.
The course videos include demonstrations of how a person's three Attitude States (Parent, Adult and Child) are formed and how they affect a person's driving. Other videos are case studies in various types of crashes. You will see a rear collision, a side collision, and a passing collision and analyze what happened in each type of crash.
Videos are also used to explain the IPDE (Identify, Predict, Decide, Execute) defensive driving strategy and how this strategy can be used to avoid risky traffic situations such as a collision trap.
The 8-hour traffic school course on Florida's First Traffic School is a great way to fulfill your court obligation and learn how to become a safer driver. We encourage you to choose this course if you have been ordered to attend an IDI program.
1-800-222-9199